All-natural stone surfaces are not made the same. Do you know, why? It happens due to the demand for stone different surface choices. Like other natural stones, limestone also comes in various finishes and sizes. A limestone finish makes the limestone surface smooth, anti-slippery, and fit for wearing the load of traffic. From flamed to polished and from honed to brushing, many finishes make limestone tiles and countertops fit for various applications. The following content discusses limestone finishes that B2B and B2C buyers can opt for their own purposes. Also, find what the Indian limestone suppliers and exporters are offering to the world around.  
Most common limestone finishes for surface treatment
Natural limestone from quarries comes in the shape of big blocks. These blocks get a new shape in natural stone processing units. Being a rough-textured stone, limestone is fit for various residential and commercial construction projects in all parts of the world. With its stain removability ability, hardness, and weather-resistant power, this stone is ideal for interior and exterior designing applications. This fine-grained stone with a specific finish makes a difference to countertops, wall cladding, flooring, roofing, cobbles, and steps. The stone is easy to cut and reshape. In a commercial world, B2B and B2C buyers can expect a unique limestone surface that suits the exact needs of end-users. The following are some of the most common limestone finishes for treating the limestone surface. These include:
Natural hand-cut limestone
The most basic finish did manually
Cuts limestone in the desired size and shape
Ideal for outdoor flooring, paving and wall cladding
Imparts limestone a naturally rough surface
Prevents surface slips and falls
Provides a unique look to the vertical structure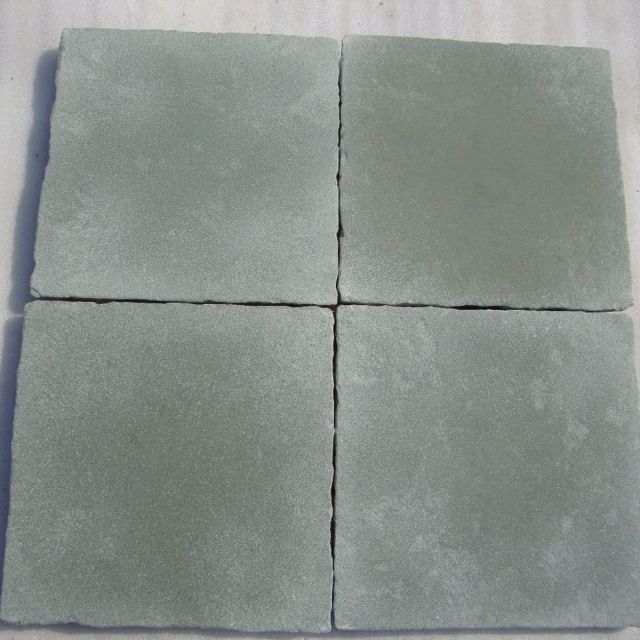 Bottom calibrated finish
Reduces the thickness of the stone
Makes the base calibrated for easy adherence
Sawn/machine-cut limestone finish
Utilizes diamond disc teeth to develop the finish
Develops an uneven and rough surface with tiny undulations
Superb for driveways, pathways, patios, and paving
Flamed limestone finish
Passes an oxy-acetylene torch over the surface
Applies a cold pressurized jet of water to fracture surface
Imparts a non-slip surface fit for terraces or public paved areas
It is a specialized technique not used by all limestone factories
Provides a different look to surface that is anti-slippery
Sandblasted limestone Finish
Treats surface by silica sand using air guns
Acquires small pores and a smooth abrasive texture
Exposes the color of the surface
Gives a more slip-resistant surface in wet areas
Honed limestone finish
Preferred for interior wall cladding and flooring
Ideal for benchtops and kitchen countertops
A satin, smooth surface with little or no gloss
Develops an even, smooth and flat surface
Imparts a relatively smooth surface just like a polished finish
Less glossy and reflective but still smooth with a small degree of sheen
Slip-resistance with a lower grit
Brushed limestone finish
Treats surface with a metal or hard plastic brush
Removes the soft sections of the surface
Leaves behind a slightly weathered texture
Brushes the stone with steel or hard nylon brushes
Makes a lightly textured surface that is resilient to scratches and marks
Ideal for an anti-slippery surface
Removes the softer parts of limestone to leave a rippled surface
Tumbled limestone finish
Involves distressing the edges and surface
Vibrates the stone in a bath of sand and grit
Administered with hands to chip the edges
Provides an aged and worn outlook
Loses sharp edges of the surface to make it smooth
Treats surface with small-size yet relatively stronger stones 
Makes the surface entirely uniform with soft surface and edges
Polished limestone Finish
Induces a glossy surface over limestone
Exposes character and color of the stone
Not commonly used on limestone
Grinds surface for a high gloss polish
Grinding with fine diamond grit pads or compounds
Mirror-like effect with oxalic acid or a crystallizing compound
Improves the resistance of the stone
Reduces limestone's porosity to almost zero
Top Indian limestone tile colors in popular finishes
Without a doubt, India is a big country and it has big limestone reserves. India is also a big limestone exporter to the world. There are lots of limestone factories that process millions of stones in tonnes every year. These factories finish natural stone products that are exported to the world. When it comes to having top limestone finishes with edges, Indian limestone manufacturers cater to all needs professionally. From natural calibrated hand-cut and machine-cut tumbled to honed calibrated hand-cut and machine-cut tumbled to natural + brushed calibrated machine-cut and hand-cut, Indian limestone finishes give B2B buyers a competitive edge. India also process slabs and tiles in a big quantity. As far as the availability of limestone products, buyers can expect tiles in the following sizes: 30 x 30, 60 x 60, 60 x 90 and 60 x 120 cm with thickness 2 cm, 3 cm, 4 cm, 5 cm or 6 cm.
Physical properties of limestone
Compressive Strength – 1800 to 2100 Kg/cm2
Density – 2.5 – 2.65 Kg/m3
Hardness – 3 to 4 rating on the Mohs scale
Porosity – Low
Water Absorption –Below 1%
Weather Impact – High resistance
Chemical properties of limestone
Alumina (Al2O3) 2 – 4%
Lime (CaO) 38 – 42%
Loss on Ignition (LOI) 30 – 32%
Mg & Na 1.5 – 2.5%
Silica (SiO2) 20 – 25%
Kota blue stone
Kita brown stone
Kurnool grey stone
Lime black stone
Lime green stone
Lime peacock stone
Lime pink stone
Tandur blue stone
Tandur blue stone
Whether you are searching for lime black limestone, Kota blue limestone, lime green limestone, or tandur blue limestone in any limestone finish, Indian limestone suppliers offer the best and real-time limestone solutions. Global customers get better natural stone choices at competitive prices.