Modak Pink Sandstone is one such natural stone that can be used in various areas of a building. From outdoor paving to indoor flooring, and even wall cladding, this stone is perfect for both traditional and contemporary layouts. Its eclectic mix of warm pink and orange hues gives a wow factor to any indoor or outdoor space. Let's get to know more about it below.
The use of natural stones in building construction is nothing new as our ancestors realized their worth years ago. Primarily admired for their beauty and sturdiness, natural stones carry an inherent capability to transform any interior or exterior space like no other.
Among various types of natural stone available in the market nowadays, sandstone and especially, Modak Pink Sandstone remains a hot choice among construction contractors, architects, landscapers, retailers, and wholesalers worldwide. Admired for its stunning beauty, rich hues, durability, hardness, and natural slip-resistant ability, Modak sandstone lends a remarkable visual and functional appeal to any indoor or outdoor space.
Salient Features of Modak Pink Sandstone
Beautiful surface texture due to its dark brown and pink flashes and veins
An excellent choice for patios, driveways, outdoor paving, and several other applications
Superb resistance to abrasion, harsh weather, acid and alkali
Seamlessly blends with the surroundings
Modak Sandstone slabs are frost-resistant
Mining of Modak Sandstone in India
Being among the largest producers of raw natural stones, India has a huge reserve of sandstone. These reserves can be found all across the country, but most of Modak Pink Sandstone quarries are located in the states of Rajasthan and Madhya Pradesh.
The extraction of Modak Pink Sandstone includes the removal of layers or large pieces of stone from an unearthed geologic deposit. The selection of the specific quarrying procedures employed sometimes depends on various factors like differences in the physical properties of the deposits, density, bedding planes, depth, financial considerations, and quarry owner's preference. ( Source ) 
Stone processing refers to the use of various technological procedures, as an outcome of which the stone is provided a specific shape and size, and its visible surface – a particular texture. Structure of technological progressions of natural stone processing encompasses: rough processing of stone in the shape and size of the product – precise treatment of the natural stone in terms of shape and size – textured handling of the stone product.
The general process of Modak Pink Sandstone starts with primary cutting, followed by the application of a finish, and proceeds with a second cutting or shaping.
To cut and shape the Modak Pink Sandstone, cutting and calibration machines are used in the processing units. Similarly, for brushing and polishing, special machines are used. For further modifications, small hand-held tools like axes and mauls are used. Today, most Indian sandstone manufacturers provide standard and custom-sized sandstone products to B2B buyers globally.
Modak Pink Sandstone is mainly known for its bright and dynamic shades of honey, rose, and terracotta. Due to its natural ability to easily gel with its surrounding, it remains high in demand from different parts of the world.
Once the cutting and polishing are done, Modak Pink Sandstone is cut into different shapes and sizes to meet the diverse needs of B2B buyers. Some of the popular Sandstone products and their respective dimensions are:
Tiles: 30 x 30, 60 x 30, 60 x 60 and 60 x 90 cm with thickness 2 cm, 3 cm, 4 cm, 5 cm or 6 cm.
Slabs: 120-190 cm x 90-60 cm with thickness 2 cm, 3 cm, 4 cm, 5 cm or 6 cm.
Palisades: 10-12 x 12-25 x 30-250 cm
Wall cladding: 100 x 25-45 x 5 cm
Step Blocks: 75-200 x 35 x 15 cm
Floorplates, facing bricks, wall stones, skirting stone, and cobblestones
Custom-sizes with varying thickness
Modak Sandstone is known for its terrific combination of colors with a pale background and beautiful pink veins. As this sandstone is hand-quarried and specific characteristics, each piece of Modak Pink Sandstone features a distinctive look in terms of color variation and texture.
Indian Modak Pink Sandstone comes in a variety of finishes that give a smooth texture to the stone surface before application. The actual finish of Modak Sandstone or any other natural stone largely depends on the precise needs of the buyers. A majority of natural stone suppliers and exporters in India employ highly advanced machines and tools to achieve the desired finish on the stone surface.
Semi honed + Tumbled + Sandblasted + semi brushed
Tumbled + Brushed
Bush hammered
Natural + Brushed
Honed + Sandblasted
Natural + Brushed + Tumbled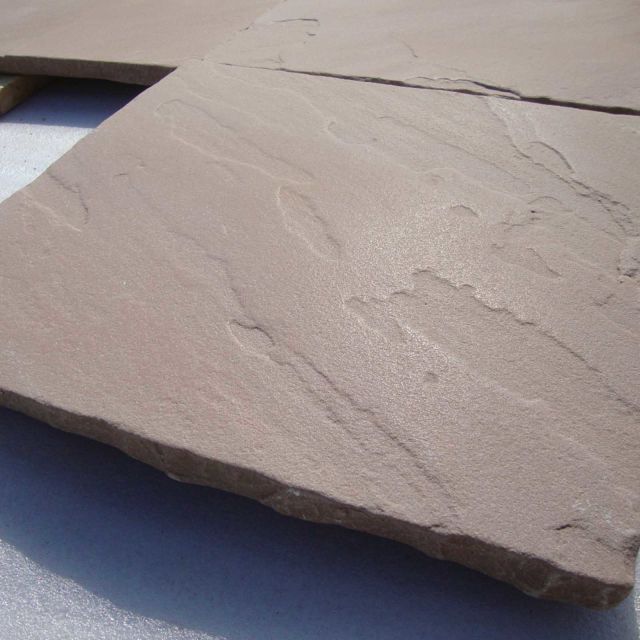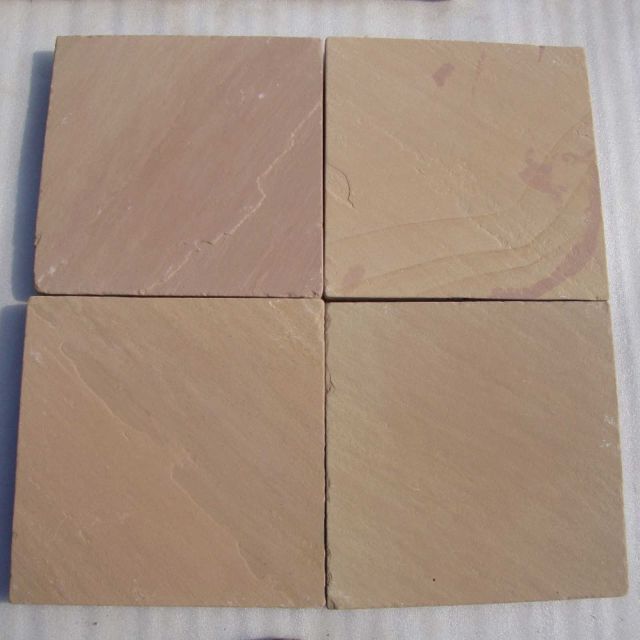 Modak Pink Sandstone Edges
There are two major edges in Modak Pink Sandstone – Machine Cut (MC) and Hand Cut (HC)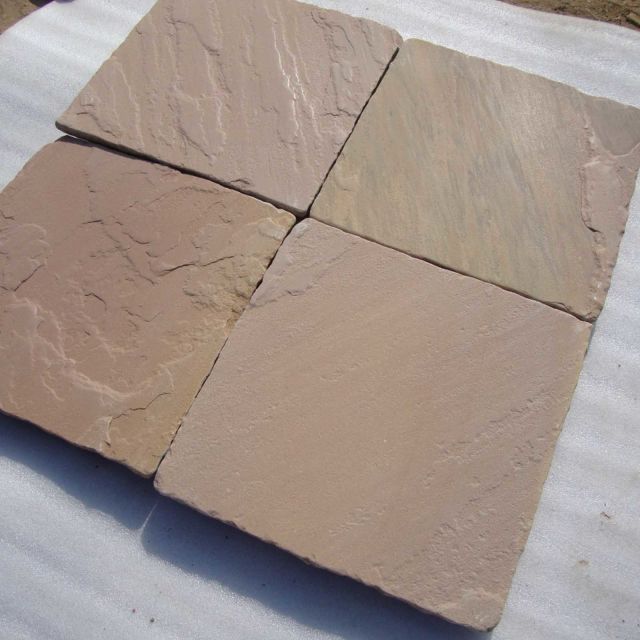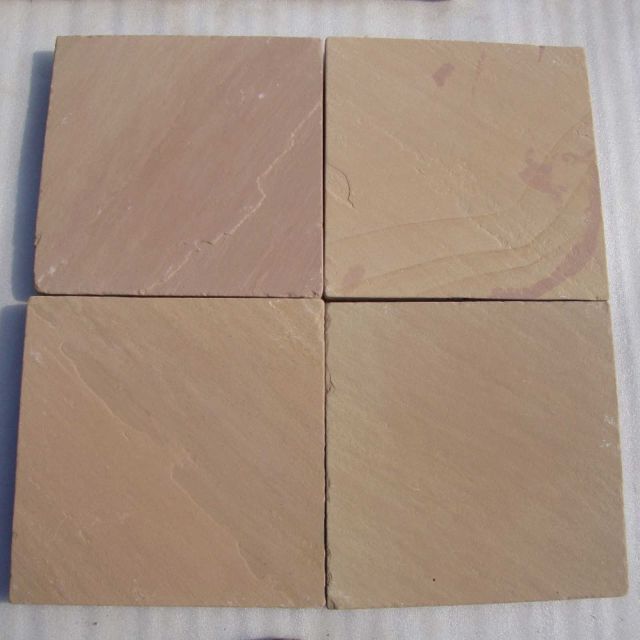 Due to its beautiful texture, hardness, durability, and slip-resistant qualities, Modak Pink Sandstone always remains a hot choice for installation in outdoor areas like pathways, patios, gardens, stairs, floors, fountains, swimming pools, tabletops, walls, and others. However, it can also be installed in indoor areas too depending on the exact functional and decorative needs of the property owner.
Some examples of Modak Pink Sandstone installation is given below:
Modak Sandstone Flooring Project – Outdoor tiles (60×90, 60×60, 60×30, and 30×30 cm thickness 2.5 cm) in natural top calibrated bottom hand cut edges
Modak Sandstone Flooring Project – Outdoor tiles (60×90, 60×60, 60×30, and 30×30 cm thickness 2.5 cm) in natural top calibrated bottom hand-cut edges and crazy (size 30×30-60×30 and 2-4 cm) with natural finish on both side
Modak Sandstone Flooring Project
Outdoor tiles (60×90, 60×60, 60×30 and 30×30 cm thickness 2.5 cm) in natural top calibrated bottom hand cut edges
When it comes to buying high-quality Modak Pink Sandstone, India emerges as a foremost choice among B2B buyers. Many sandstone exporters in India offer an extensive range of standard and custom-sized stone products at the most competitive prices to architects, landscapers, construction firms, contractors, interior designers, and others.